The market is flooded with an endless array of dive lights, and even the most experienced divers have difficulty choosing the best of the best. But we've done the work for you: After continuous testing and research, we've narrowed down thousands of torches to find the top 10 dive lights on the market today.
1. V3 Nemo Flood Light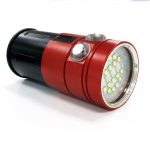 Easily the best dive light on the market today, the latest iteration of the Nemo Flood Light packs quite the punch. The 18 Cree LEDs and 10 UV LEDs emit up to 15,000 lumens in a wide 120-degree beam, making it the most powerful dive light on the market. And with five intensity levels and multiple mode options, including the ability to switch between white floodlight for night dives and cave diving and UV light for night photography, this beauty works perfectly in multiple conditions. Even at the highest setting, the V3 Nemo Flood Light offers 60 minutes of burn time as well as the ability to swap out batteries underwater. Serious recreational divers and commercial divers alike should add this 100m/328ft depth rated dive light to their shopping lists.
2. V2 Nemo Flood Light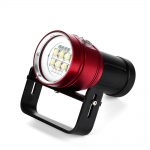 Obviously, the second-best dive light out there is the predecessor to the V3 Nemo Flood Light. This powerful torch emits up to 8,000 lumens in a wide 120-degree angle beam and offers three separate intensity levels and multiple different modes. The dive light features a 45-minute burn time at the highest setting and has a depth rating of 100m/328ft.
3. Tovatec Fusion 1000 Dive Light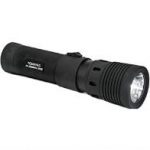 This lightweight dive light is versatile yet powerful with 1,000 lumens, three separate power levels and the ability to adjust the beam angle from 12 to 100 degrees. With a depth rating of 100m/328ft, it's fantastic as a primary or secondary light and a definite favorite.
4. Sea Dragon 2300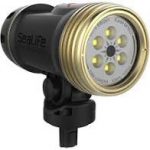 As the name suggests, this dive light emits 2,300 lumens in a 100-degree angle beam and is a favorite amongst underwater photographers. The flex connect mount allows divers to attach the light to any type of equipment, including cameras. And with a 100m/328ft depth rating and built-in flash sensor, it's great for capturing true-to-life photos.
5. Underwater Kinetics Sunlight C4 eLED L2
There's a reason Underwater Kinetics routinely makes best-of lists: They know how to build versatile, reliable dive lights. This model emits 1,000 lumens in a 15-degree beam and features a dual power locking switch to move securely between low and high power. And with a depth rating of 152m/500ft, it's tough enough to withstand almost any diving conditions.
6. Light & Motion Sola Dive 2500 S/F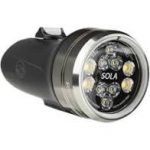 With a 100m/328ft depth rating and a whopping 2,500 lumens of brightness, the Sola Dive 2500 is a powerful yet versatile photography and videography dive light. Switch between spot, flood and SOS beam angles and take advantage of the hands-free mount or the imaging mounts for hands-free use.
7.  Scubapro Nova 720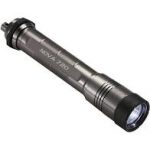 Offering up to 800 lumens in an 80-degree beam, the Scubapro Nova 720 works beautifully as a secondary light at night and a primary light during the day. It burns for up to 90 minutes and features two different brightness settings and an interchangeable light head. And with a 300m/984ft depth rating, you can pretty much take this handheld light on any dive.
8. Big Blue CF1200P LED Light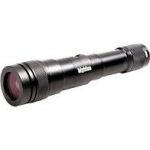 A longtime favorite, this dive light features an adjustable beam angle (7-degree to 37-degree) and a solid, near-indestructible housing. It emits 1,200 lumens and features four power settings as well as an SOS mode. With up to 20 hours of burn time at the lowest setting and a depth rating of 100m/328ft, it's both versatile and reliable.
9. Underwater Kinetics Light Cannon eLED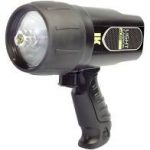 A staple among divers of various specialties, the UK Light Cannon emits up to 825 lumens and offers two separate power settings. Designed to create the same color temperature as natural sunlight, it's perfect for seeing and photographing underwater scenes in real-life color as far down as 152m/500ft.
10. Tovatec Galaxy 2500 Video Light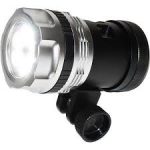 This powerhouse was designed specifically for underwater videography, featuring a super-wide 140-degree beam and 2,500 lumens. Depth rated to 122m/400ft, it offers three separate power settings and a burn time of up to 3 hours.