Waterproof flashlights are essential when it comes to exploring the underwater world or adventuring on a day or night dive. Having the best flashlight offers a higher level of comfort and peace of mind. For professional and recreational divers, a top rated waterproof flashlight allows an individual to get the most out of the dive.
The following are some of the top rated waterproof flashlights:
ScubaPro Nova 230
This is a top waterproof flashlight from ScubaPro. The Nova is currently one of the best flashlights on the market for recreational divers. It features a lightweight aluminum body with a nice, powerful light output. The 230 lumen LED torch is depth rated to 120m/390ft and it's certainly a reliable flashlight for underwater use due to its long burn time and rugged construction.
Underwater Kinetics SL4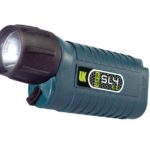 This is an incredible waterproof flashlight for novice divers as it is extremely easy to use. The user turns it on and off with just a simple flick of the switch. The 400-lumen output works beautifully as a secondary dive light and can last up to 10 hours. The flashlight features ABS and polycarbonate construction making it tough, resistant to corrosion, and waterproof up to 150m.
ScubaPro Nova 720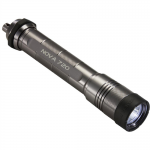 This diving flashlight combines simplicity with sophistication, making it one of the most useful underwater flashlights. Powered by three C batteries, the ScubaPro Nova 720 is operated using a simple twist-on/twist-off light head. It features an all-aluminum construction that is rated waterproof to 300m. This flashlight has received top ratings due to its powerful, concentrated spot beam.
Light and Motion Sola Dive Light 800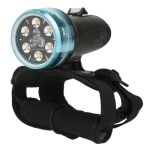 This is another top rated waterproof flashlight on the market. This flashlight utilizes 9 lights to create dual beams and offers multiple power settings, allowing the diver to perfectly illuminate the underwater world. The compact and lightweight flashlight is waterproof up to 100 meters and can last up to 230 minutes on low power.
ESKY Submarine LED Underwater Flashlight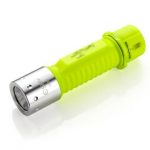 While it's simple in design, this flashlight comes in handy in many situations. The flashlight is powered by rechargeable batteries or 3 AAs. It also features two brightness levels and can be used as a strobe light. The ESKY Submarine LED Underwater Flashlight is top rated as it is waterproof, budget-friendly, powerful and durable.