Diving flashlights are used by professional and recreational scuba divers to explore dark environments. Choosing the right diving flashlight can greatly enhance an individual's diving experience and also guarantee safety. Having a waterproof flashlight for diving is a great idea to make your diving experience more varied and flexible.
Here are some of the best waterproof flashlights for diving:
C8 eLED L2
This waterproof dive light is one of the brightest and most reliable diving flashlights on the market. It delivers a whooping 1200 lumens of brightness. The flashlight features a dual power mode that toggles from high mode to low mode to help conserve energy when not in use. The dive light is waterproof to 152.4m/500ft.
Sea Dragon Mini 650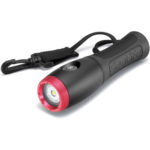 This refined diving flashlight has a number of top-notch features that make it an elegant and effective solution for underwater use. The Sea Dragon Mini 650 features one-handed operation, a comfortable grip, rugged design and construction, and a 15-degree spot beam. The mini 650 is waterproof to 330ft/100m.
Underwater Kinetics Light Cannon eLED L1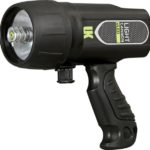 This is a high-powered search and rescue dive light that delivers a massive 1,100 lumens of brightness. Its beam is wide enough to explore extremely dark environments. This flashlight is waterproof to 500 feet and features 2 brightness levels.
Underwater Kinetics Mini Q40 MK2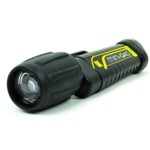 This waterproof dive light uses eLED technology to illuminate poorly lit environments. It has a narrow beam that penetrates water better than conventional dive lights. The Mini Q40 is waterproof to 500 ft and delivers 250 lumens of brightness. Furthermore, this flashlight has a burn time of 5 hours on 4 alkaline batteries.
Light & Motion Sola 1200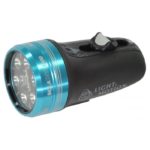 This dive light is powerful, lightweight and functional. The Light & Motion delivers 1200 lumens, making it popular among professional and recreational divers. The 12-degree spot beam, multiple mounts, external indicator lights, and superior firmware all make it a hot product among divers. This light is depth rated to 100 meters.
These waterproof diving flashlights allow divers to enjoy the full spectrum of color and life underwater while maintaining their safety.