Being a global leader in the manufacture of diving equipment, ScubaPro does not fall short when it comes to design. In this article, we take a look at the top 3 Scubapro dive lights that provide convenience and flexibility and guarantee an amazing diving experience.
Scubapro Nova 720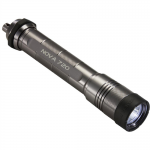 You are good to go for up to a depth of 300 meters with the Scubapro Nova 720's wide-angle beam of up to 80 degrees. It is easy to handle as it operates with a twist on/off light head. On the high-intensity setting, the light provides 700-800 lumens for 2.5 hours. The 50% brightness option is also available for longer burn time. It works on three C batteries and features an all-aluminum construction to keep it light and strong. A rubber protector coating helps improve grip. Among other advanced features that come with this light include an interchangeable light head and an over-pressure valve release for maximum safety.
Scubapro Novalight 220
This is one of the top 3 Scubapro dive lights and is especially useful as a secondary light. It has a depth rating of 400 feet(about 120 meters) and comes with a pressure valve for increased safety. The designers have made this dive light easy to handle with well-placed curling helping to improve grip. It features 3 power modes with a maximum brightness of 220 lumens and a run time of 2 hours on full brightness. You get up to 4 hours on the 25% power setting. An emergency flash mode has also been included in the easy-to-toggle-between power settings.
Nova 200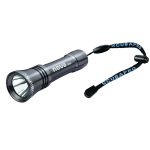 You cannot have a solid discussion on the top 3 Scubapro dive lights without mention of the Nova 200 dive light. It features an ergonomic design and comes with a rugged, lightweight aluminum casing. The dive light produces a powerful 200-lumen beam on the high-intensity setting and uses 3 rechargeable batteries. It will give you up to 3.5 hours of consistent light and has been rated to depths of 394 feet (120 meters). One of the major selling points of this light is its small size which perfectly fits in your hand and back pocket. It also features an adjustable wristband lanyard to ensure you do not drop the light.