Light & Motion lights are known for their ergonomic design, durability, and high-quality among the people who use them most. Light & Motion know that to a diver, professional or otherwise, every piece of equipment is beneficial to keeping you safe in an environment in which the rules for gravity, oxygen, and light have completely changed. Light & Motion offer a variety of options when it comes to underwater lighting. Below, we'll take a look at the top 3 Light & Motion dive lights.
Gobe 850 Wide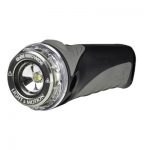 The Gobe 850 Wide is heralded as the ultimate underwater flashlight. Specially designed to go with you on even your deepest adventures, the 850w is the most expansive of Light & Motion's Gobe family, with an incredible sixty degree flood beam and depth rating of up to 120m. It is the perfect all-purpose dive light.
Lumen output: 850
Depth rating: up to 120m
Beam type: Sixty degree flood beam
Sola Dive 2500 S/F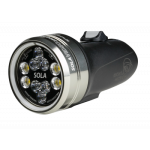 Said to be one of the most versatile underwater lighting designs, the Light & Motion Sola 2500 S/F provides an astonishing 2500 lumens of light to illuminate even the darkest depths. With flood or spot options plus an SOS mode, the 2500 S/F offers a variety of different underwater visibility options. The fast charge battery system can recharge the light in just an hour and forty five minutes.
Lumen output: 2500
Depth rating: up to 100m
Beam type: Spot, Flood, and SOS beams
Sola Laser 600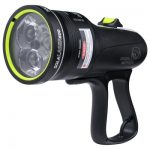 The Sola Laser 600 is Light & Motion's pistol grip light option, and this light packs loads of features. The light offers users a high powered green laser to better illuminate darker areas and can be used for signaling as well. The green laser beam can be used with or without the standard white narrow beam. The hand mount provides hands-free usage as well.
Lumen output: 600
Depth rating: up to 100m
Beam type: Narrow eight degree beam + green laser beam