For many years, Underwater Kinetics has been recognized as the top manufacturer of the world's most high-tech, long-lasting and reliable dive lights. Underwater Kinetics dive lights are extremely popular among professional and recreational divers. The following are the top 3 Underwater Kinetics dive lights:
Underwater Kinetics SL4 eLED L1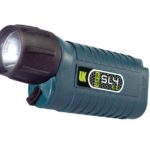 This high intensity LED dive light is renowned due to its compact size and incredible battery life. The dive light features a narrow penetrating beam that allows the user to maneuver their way in low light marine conditions. The SL4 eLED dive light produces 400 lumens of brightness and a beam angle of 8 degrees. The SL4's eLED is powered by 4 C alkaline batteries with a burn time of 10 hours. The light is depth rated to 152.4 m/500ft. This dive light is an ideal photo spot light and can be used to illuminate gauges.
Underwater Kinetics Aqualite Pro 20 eLED
The Aqualite Pro 20 is a very powerful primary dive light that delivers a whooping 750 lumens of brightness. Weighing only 6.4 ounces, this dive light is compact enough to fit in the palm of the diver's hand. It features 4 power settings that are easily toggled between with the use of the rear rotary switch. The dive light has a maximum burn time of 12 hours on the low setting. The Aqualite Pro 20 features a narrow 20-degree spot beam that reduces backscatter, making it an ideal primary dive light. The dive light is depth rated to 500ft/150m.
Underwater Kinetics Sunlight C4 eLED L2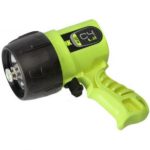 The C4 eLED L2 is a durable and versatile primary dive light offering a very powerful, penetrating beam. It's small enough to fit in the hands of the user comfortably. The lightweight and compact dive light produces 1000 lumens of brightness. The C4 eLED L2 features a dual power locking switch that toggles from high to low power. Other features of the C4 eLED L2 dive light include: 500ft/152.4m depth rating, 3 C alkaline batteries included, 330ft/100.6m beam distance, and a 15-degree beam angle.
There are many more great Underwater Kinetics dive lights. The list is endless. The common thing about this brand of dive lights is that they greatly enhance divers visual experience in low light conditions.