It is very important to have a good dive light when diving, whether you're exploring during the day or at night. But not all good dive lights come at a high price. There are several quality products that retail for less than $100. These are the best dive lights under $100.
1. Odepro WD43 Dive Light
The Odepro WD43 dive light produces an output of 1000 lumens. The dive light is very easy to operate and it has a depth rating of 200m.

2. Orcatorch D550 970LM Dive Light
The Orcatorch D550 970 LM Dive Light comes with a magnetic controlled tail switch and is completely waterproof. It comes with a wrist strap that fastens the dive light to your hand and makes it easier to dive. It has three brightness modes which allow the user to adjust the brightness according to their needs.
3. Underwater Kinetics SL4 eLED Crevice Light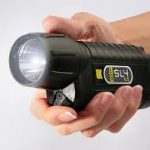 This is another great dive light that sells for less than $100. It offers high brightness and an extended battery life. The dive light offers single-handed switching with just the thumb or index finger. It also has multiple brightness settings allowing the user to set the level of brightness.
4. Tovatec Fusion Video LED Dive Light
This dive light has a 260-degree beam angle and a depth rating of 328ft. It is powered by a rechargeable CR14500 Li-ion battery.
5. Mastiff DT2 Dive Light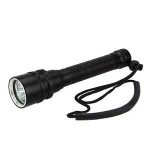 The Mastiff DT2 has an output of 1500 lumens and a 100m depth rating. The dive light uses two 18650 Li-ion batteries and also comes with 5 CREE XM-L T6 LED bulbs.
6. ScubaPro Scuba Underwater Dive Lights
These dive lights are constructed with rugged aluminum casings that provides amazing durability, and many models fall well below the $100 mark. Most are powered by C-alkaline batteries which can provide up to 100,000 hours of lighting with proper use and regular recharging. The lineup features dive lights with multiple different brightness levels, and light output ranges from 200 lumens to 700 lumens.