Scuba video lights are vital to underwater photography and video. In the past few years, there has been an industry-wide advancement in underwater video lights, resulting in brighter lights at more affordable prices. These are the best scuba video lights currently available:
1. Sola 1200 Video Light
The Sola 1200 video light is an amazing scuba video light. It has an output of 1200 lumens. It produces very bright light and has multiple brightness settings. It also has a depth rating of 100 meters. This is a stunning, go-to video light for underwater videography.
2. GoBe 700 Video Light

The GoBe 700 Video Light is a popular option for divers. It comes in a stylish, compact and attractive design. The video light is lightweight which makes it very easy to use. It produces 700 lumens and comes with 6 different lightheads. It also comes with five power modes and uses a USB rechargeable Li-ion battery. The video light comes with an easy-to-push power button with a power level indicator.
3. Fix Neo 1500 Video Light
The Fix Neo 1500 Video Light is a remarkable video light that has a light output of 1500 lumens. It comes with a 30-degree spot beam, 100-degree wide beam, and 100-degree red beam. It also uses a removable and replaceable battery. It has a depth rating of 100 meters.
4. Fix Neo Mini 1000 Video Light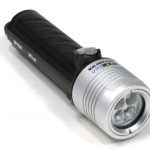 The Fix Neo Mini 1000 Video Light comes with an interchangeable battery that is USB rechargeable. It has a light output of 1000 lumens. It has an auto flash detect feature and a burn time of 120 minutes. The video light has a depth rating of 100m and weighs 160g.
5. Ikelite Gamma Video Light
The Ikelite Gamma Video Light is a reliable, popular video light. It is made from aircraft-grade aluminum and is well designed. It has a light output of 220 lumens and a depth rating of 120 meters. It has a weight of 113 grams. This video light is very efficient and easy to use.