With thousands of options to sift through, finding the best dive light often proves frustrating, confusing, and time consuming. It's important to recognize that "best" is subjective – a recreational diver exploring coral reefs on a bright sunny day needs different lighting than a person traversing through a cave at night or a photographer looking to capture the perfect shot of a school of fish.
So, let's start with the basics.
Classes of Dive Lights
Dive lights fall into four distinct categories, but there can be crossover – a night diver's secondary light works perfectly as a daytime diver's primary light; a primary light can also double as a focus light for a photographer.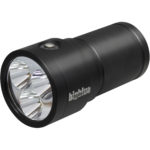 Primary dive light: Large, bright, and featuring a long burn time, these lights are a diver's primary source of illumination. They emit at least 500-lumens, although many night and cave divers prefer at least 1,000 lumens. A favorite is Bigblue's VTL3100P Supreme, an ideal primary dive light with a rugged construction, 330ft depth rating, and 3,000 lumens of brightness.
Who needs one: Every diver.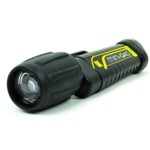 Secondary dive light: Compact and dimmer than a primary dive light, these lights serve as a backup should the primary light fail. Daytime divers may use a light classified as a secondary light as their primary light. Compact, durable, and reliable, Underwater Kinetics Mini Q40 eLED Mk 2 is the most popular secondary light on the market. It's rated to 500ft and, although only emitting 77 lumens, the quality of the beam is unparalleled.
Who needs one: Anyone diving at night, in caves, or those engaging in longer dives.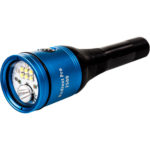 Videography dive lights: Water absorbs light, slowing eliminating different colors the deeper you go. Videography dive lights color-correct underwater to replace the lost shades. The Fantasea Radiant PRO 2500 is a stellar example, emitting 2,500 lumens of warm light to infuse vivid colors into videos.
Who needs one: Anyone looking to take video footage of their diving excursions.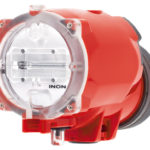 Photography dive lights: These lights include strobe lights to create a quick, bright flash that illuminates a wide area underwater, and focus lights that affix to a diver's camera and create contrast on a subject so the camera focuses properly. A top-notch strobe light is the Inon S-2000, boasting 570 flashes per charge and a rapid 1.5 second recycle time.
Who needs one: Anyone who wants to take photos underwater.
Determine What You Need
Brightness, beam angle, depth rating, and burn time features vary among dive lights. The best dive light for a specific diver depends on what they're doing and the features they need.
Brightness: A dive light's brightness is measured in lumens. Venturing out during a bright day for a shallow dive? Stick to lights rated at 100- to 500-lumens, preferably with adjustable settings so you can dim the light. Night and cave divers, as well as photographers and videographers, need a brighter light, around 1,000- to 3,000 lumens, for their primary light, and a dimmer light, anywhere from 50- to 500-lumens, as a secondary light. Commercial divers and deep-sea divers may need lighting that dramatically exceeds this with 5,000+ lumen dive lights.
Beam angle: Dive light beam angles range from just a few degrees to an expansive 120-degrees. Narrow beam dive lights are essential for looking under ledges and in crevices, as focus lights for photographers, and are ideal as a cave or night diver's primary light. Wide angle dive lights are perfect to illuminate a large area when you're working and need ambient light, when you're setting up videos and photos, or when you want to explore or work in a cavern. Commercial, cave, and night divers typically carry a narrow beam and wide beam dive light.
Depth rating: Look at your diving habits to determine what depth rating your dive light needs – if you take a 50m-rated dive light to 100m, it will flood, fail, and/or experience damage. Always err on the side of deeper – there's no harm in using a 200m-rated dive light at 75m, but using a 75m-rated dive light at 200m could prove disastrous.
Burn time: How long a dive light will last at full power is a huge deciding factor for most divers, and is based on the output of the light in relation to the capacity of its battery. Rechargeable and non-rechargeable Li-ion batteries powering LED bulbs tend to have the longest burn time, and are ideal as primary lights and photography lights. Secondary lights with the same features are also the best choice, but depending on how long you plan to be underwater, disposable alkaline-battery powered dive lights may be best – you can swap batteries out as needed instead of waiting for the light to charge, and these lights tend to be cheaper.
Features and modes: Ideally, a dive light should have at least two modes so you can control brightness and relegate the burn time of your light, especially when it comes to your primary light. Adjustable beam angles are imperative for some divers, and a nice-to-have feature for others. Some dive lights allow you to switch between narrow and wide beams, while others stay in their narrow or wide category but allow you to adjust the beam by a few degrees.
Durability and Construction
Although the best dive light for you depends mostly on how, when, and where you plan to dive, the best dive light should be durable, reliable, and capable of handling rough conditions. Here are a few features to look for:
LED or HID bulbs. These last longer, are more efficient, and produce a better quality of light than tungsten and halogen bulbs. Most divers view LED dive lights as the best of the best.
All-aluminum or noncorroding polycarbonate construction. All-aluminum dive lights last longer and hold up significantly better than anything else, but noncorroding polycarbonate runs a close second.
Short charging time. This is especially useful for factory-sealed batteries – because you can't swap batteries out, ensuring your dive light won't take an entire day to recharge is essential.
To find the best light for you, closely examine your needs, narrow down your choices, and head to a dive shop to inspect your options in person and make a final decision. Remember, a well-constructed light that fits your brightness, depth, and beam angle needs could feel uncomfortable in your hand or awkward to use, so in-person testing is a must. For investment-level dive lights, look for dive shops that offer demo dives so you can really get a feel for the product prior to pulling out your wallet. Once you know the dive light that works best for you, shop around online and at different stores to find the best deal.