Tovatec offers a wide range of relatively affordable, highly dependable dive lights. Here are the top 3 Tovatec dive lights on the market today.
Tovatec Fusion 530

As the name suggests, this light source has a 530-lumen output. Its beam angle is flexible and ranges between 12 and 100 degrees. The Fusion 530 is useful in video shooting because of its powerful beam. It has a provision where one can fix a camera to the light to make shooting underwater easier. Though a small gadget, this model has a depth rating of 100 meters/328 feet. The design uses aircraft-grade aluminum which is resilient and efficient for long-term use.
Tovatec Ultra III 500
This flashlight has a sharp 500-lumen output. The darkest waters are better chartered with this tool especially because it burns for 6 hours nonstop. Its magnetic slide switch is a unique feature that makes it stand out among its competitors. The depth rating is better than most lights and a diver can go down to 400 feet with it. The beam angle is concentrated at 14 degrees giving the diver precise vision. The lamp has a long life of 100,000 tested hours. It is the best for regular divers who spend much of their days doing research underwater.
Tovatec Fusion 1000 Light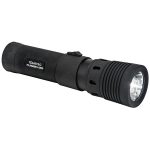 This is one of the most diverse lights in Tovatec's lineup. It emits 1,000 lumens and has 3 power levels. One can adjust to 30%, 50%, or 100%. The beam angle is adjustable from 12 to 100 degrees like the Tovatec Fusion 530. The depth rating is 100 meters and the pressure safety valve built in the light protects it from damage. The head is removable when one needs to clean or adjust the beam angle.